The Fall of the House of Crowhill
Part IV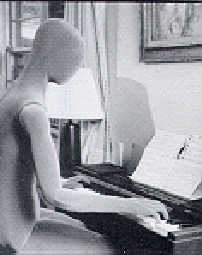 There I was, sitting on one of the couches in Mr. Crowhill's living room. After we had come down stairs, in order to Swing Into Action, he told me that he had to make some phone calls. So I had to wait for him. He allowed me to make myself comfortable in the living room. So I sat on one of those couches which faced each other and were perpendicular to the wall. The comfy chair that was at one time against the wall, between the two couches, was now gone. The replica of Dr. Rooster that I saw in the same location when I arrived the previous day at Crowhill Mansion was gone too, except of course for one of the arms. In the hand of that arm was - as you might have guessed - a rosary. What could I do there? As I was sitting on the couch, I looked at the bookcase on the wall facing me. I walked over to take a look at the books in it. I saw "Being and Time" by Heidegger, "Truth and Method" by Gadamer, "The Dialogues between Chowderhead and Horseface" by Herr Doktor, and "Critique of Pure Lunacy" by.....I forgot the guy's name....and many other volumes which were clearly meant for casual reading. I looked all over, however, for the critical edition of the works of Dr. Rooster, but couldn't find it. In fact, I couldn't find one single volume on Roman Catholicism. These, I thought, must be kept in the Secret Library, with so many other Mysterious Items which would have occupied me intensely while waiting. Alas, they were not there.
I opened up the "The Dialogues between Chowderhead and Horseface" and read the following dialogue.
Chowderhead: Hi there, Horseface. What are you reading there?

Horseface: The Bible. I am trying to figure out what really happened in this story of Adam and Eve.

Chowderhead: I thought it was pretty straightforward.

Horseface: Of course you did, Chowderhead. It takes a brilliant mind like mine to see the problems.

Chowderhead: What problems are those?

Horseface: Haven't you ever noticed that God tells Adam not to eat the fruit of the tree of knowledge of good and evil, but when Eve speaks with the serpent she adds that she and Adam are not even supposed to touch it?

Chowderhead: Gee, I never noticed that, Horseface. What do you make of it?

Horseface: Eve is adding to God's word. Either she is doing this on her own, or Adam conveyed to her this distorted version of God's command.

Chowderhead: So which one do you think is guilty?

Horseface: Obviously Adam is, because we are told by the Apostle Paul that Adam brought sin into the world. But most people think that the first sin was eating the fruit. If that was the first sin, you would have to say that Eve brought sin into the world. This problem is however solved once you see that the first sin was the distortion of God's command.

Chowderhead: So eating the fruit was really the second sin?

Horseface: Oh no, the second sin was Adam's failure to exercise his authority over the woman. We know that Adam must have been standing there right next to Eve while she was speaking to the serpent. Now I don't know about you, Chowderhead, but I think that it is clear from scripture that a man has authority over his wife. So by falling down on the job of commanding that foolish woman not to eat the fruit, he was failing to do what a man has gotta do. When he ate the fruit himself, he only put the icing on the cake.

Chowderhead: But why do you think that Adam was right there with Eve and the serpent?

Horseforce: Because it says that Eve gave him the fruit. He must have been right there if she could simply give it to him.

Chowderhead: Now hold on there, Horseface! You can give something to someone from a great distance. Someone just gave me a cassette tape through the mail. It came all the way from the other side of the ocean. So maybe Adam was clear on the other side of the Garden of Eden and Eve sent the fruit to Adam by mail or DHL.

Horseface: Don't be such a chowderhead! In the first place, it was fruit and not a cassette tape. They don't let you send fruit by mail or DHL. In the second place, they didn't have that stuff back in those days.

Chowderhead: Oh yeah, I forgot about that. But maybe Adam was temporarily inflicted with laryngitis and couldn't tell Eve not to eat the fruit.

Horseface: Now that is a brilliant hypothesis, Chowderhead!

Chowderhead: Coming from a genius like you, Horseface, that is a great compliment. I am truly honored.

Horseface: Let's go for a drink now. All this deep thinking makes me thirsty.

Chowderhead: I'm with you, Horseface. I'm in the mood for some of that porter stuff.

Horseface and Chowderhead walk into the sunset to their friendly local tavern.
I closed the book with a sigh and put it back on the shelf. Then I noticed to my right, in the corner where long ago Peace and Tranquility were oozing, there was a guitar. It was an electric one, though there was no amplifier to be seen in the room. I picked it up and went back to the couch and strummed it. Even I could tell that it was Way Out Of Tune, but that was no problem. All I could play required one string anyway, the top one of course (you know, the big thick one) because this one was so easy to pick. So there I was, sitting in the living room of Crowhill Mansion, playing "Louie, Louie" and "I Can't Get No Satisfaction" on the top string of an unamplified electric guitar. I could have gone on like that for eternity.
As I started reminiscing about my days as a rock star, Waltresky entered the room with tea and cakes.
"Please don't let me disturb you while you're jamming, Herr Doktor," he said, as he set down the tea on the coffee table between the couches.
"No problem, Waltresky," I said, as I put the guitar down on the couch. I was actually a bit embarrassed. "What is going on?"
"Master Crowhillsky is still making some phone callskies, but he thought that you might like to drink some teasky while waiting."
"That is an excellent ideasky, Waltresky"
After he poured a cup of tee, he handed it to me and asked with a smile, "Or would you like another glass of winesky, Herr Doktor?"
"Very funny," I said. "But thanks a lot for the tea."
"You're welcome, Herr Doktor. Now I shall be on my way."
"But wait a minute, Waltresky. I thought you might clarify a few things for me."
"Clarify? I have been taking a course in Continental Philosophy. The teacher told me that you ain't supposed to do that, because what you are really doing when you pretend to clarify stuff is....."
"Never mind what that guy...."
"Girl! Or rather, woman! Better, ....."
"Whatever! Never mind what he, she, or it said. Tell me what happened while Hans Wurst was here."
"You heard the gun shot, didn't you?"
"Yes, Waltresky, I heard it and surmised at once that Mr. Crowhill shot Hans." "That is exactly what happened. Are you happy with the clarification that you didn't need from me?" asked Waltresky in a sarcastic Slavic tone.
"No, I want to know why this happened," I said.
At this point Waltresky shed a tear and said, "He did it for me."
"Do you mean that Mr. Crowhill was protecting you by shooting Hans?"
"That's exactly what I mean," Walt replied as he started crying harder.
"Ah, I see. There is so much that I don't understand," I said.
"There is so much that none of us understands, Herr Doktor."
"True, but please tell me how Mr. Crowhill was protecting you."
"He shot Hans, right in the head, because Hans wanted him to kill me."
"Why did Hans want Mr. Crowhill to kill you, Waltresky?"
"Don't you remember what Hans said to Mr. Crowhill this morning as he was leaving?"
"Oh yeah, something about the 'next step'."
"Exactly. The next step," said Waltresky, "was to start replacing the replicas. He wanted to eliminate relevant individuals and replace them with replicas."
"But why would he want you to be eliminated? I've seen no replica of you."
Waltresky looked up me and smiled. "I keep it hidden," he said. "I have been very unhappy with my appearance for years. At one time I hand a smooth baby face, but now my face is all wrinkly. At one time I had a Big Shiny Hairdo, but now my hair all scraggly. At one time I had a couple of Newmanesque blue eyes, but now I have this watery real eye and this glass eye. Some say it is real horrorshow, but I'm afraid they mean it in the wrong sense."
"Newmanesque, as in Cardinal Newman?"
"I could never be on That Level! I meant Paul Newman."
"I see."
"Anyway," Walt continued, "there is a replica of me, as there is one of you and seven others."
"Let's see, those would be of Dr. Rooster, Mr. Crowhill, Mr. and Mrs. Dunstwerth … and who else?"
"The Three that accompany Hans."
"You mean Lyco, Vampire, and Vamp?"
"Exactly," Walt replied.
"Alright, let me put this together now. There are altogether nine replicas. Hans intends to eliminate the original people whom they replicate. Does this have anything to do with the hypothesis that he is The Beast prophesied in Revelation?"
"It has everything to do with it! But it is not just a hypothesis."
"What does it have it do with it?....whatever you want to call it."
Walt seemed rather distraught that I didn't understand what was going on, but he collected himself and answered as follows: "The Beast in Revelation has ten heads. Each replica is to become a head. When the original person is eliminated, the replica becomes animate and joins Hans."
"Is that why Lyco, Vampire, and Vamp accompany him and make strange noises?" I asked.
"Exactly. Hans became a werewolf not just because he is a Scary Guy (which of course he is), but rather in order to hang out with werewolves and to kill one of them. Likewise, he became a vampire, so he could hang out with vampires and kill one of them."
"I see. But don't tell me that he became a vamp...."
"I guess he did. You don't know how twisted the mind of Hans is."
"So let me get this straight. Hans was out to kill you in order to continue his Program of Replacement, as a crucial aspect of the System of Replicas."
"Exactly," replied Waltresky. "He had told Mr Crowhill that I had better be a Blutwurst the next time he comes here. Mr. Crowhill tried very hard this afternoon to stall, but when Hans finally demanded his Blutwurst … bang! … Mr. Crowhill shot him in the head."
"But I don't get it, Waltresky. So far we have only accounted for nine replicas, namely of Dr. Rooster, Mr. Crowhill, Mr. and Mrs. Dunstwerth, you, me, Lyco, Vampire, and Vamp. But the beast in Revelation is to have ten heads. So where is the tenth head?" I asked.
"That is the Main Head, the head of Hans himself," replied Waltresky. "Do not forget the scripture that tells us that one of the heads was wounded."
"Oh, I see," I said. "So there isn't a replica of Hans."
"With Hans you are on a whole different level. Don't even try to figure him out." "Very well, but if everything you say is true, Mr. Crowhill was actually fulfilling a prophecy by shooting Hans in the head."
"Didn't you hear that ungodly laughter that came right after the shooting?"
"Yes, I did," I replied.
"That came from The Three, as they dragged out the corpse of Hans," said Waltresky. "It was a laughter of triumph. But Hans still has much to do before he can reek havoc on mankind."
I drank down the rest of my tea before it got cold, when Mr. Crowhill entered the room. "I am so sorry to have kept you waiting, Herr Doktor. But we need a lot of help to accomplish our task. So I was on the horn, inviting people over to help us."
Then we heard some noise outside. It sounded like motorcycles, lots and lots of motorcycles. Waltresky left the living room and entered the hall to open the front door of Crowhill Mansion.
"Welcome, friends!" he said. In came Mr. and Mrs. Dunstwerth in leather jackets, followed by an entourage of people in leather jackets. Waltresky brought them all into the living room, which was fortunately rather large and sparsely (though tastefully) furnished.
Only few words were exchanged between Mr. Crowhill and this group of people when there were more people at the door. This time it was John and Mr. Tubbyman and their entourage. All of them were wearing those ridiculous UK jackets and caps. They said they came on foot because they want to be just like basketball players.
"We really must get started while the weather is right," said Mr. Crowhill. It was raining very hard. There was also lightning and thunder.
Mr. Crowhill led all these people down to the cellar. He wanted them to heave Dr. Rooster in the Big Ice Cube all the way up to the attic of Crowhill Mansion. He also wanted them to do the same with the comfy chair and the concomitant crucifix. This was all done, though I won't bore you with the details. One point of interest, however, was that the comfy chair had a rather large ice cube on it. In this ice cube was Mr. Crowhill's cat. We must have left it in the comfy chair that morning and it froze there. I have no idea though about how the ice cube was formed. Those who know the Ways of Science are free to explain it, unless of course it belongs to the realm of the Miraculous, whatever David Hume might say.
When we reached the attic, Mr. Crowhill opened a door. We walked through the door to find an enormous laboratory, filled with all kinds of machines. In the middle of laboratory was a large table. Mr. Crowhill wanted the comfy chair on the table. Then he wanted the large ice cube (with Dr. Rooster in it) on the comfy chair. The small ice cube (with the cat in it) was to be put on top of the large one.
Once this Stacking Procedure was executed, Mr. Crowhill asked us all to gather round the table and pray. While we were doing this, he and Waltresky started switching all kinds of levers and turning all kinds of knobs on the machines. On the ceiling directly above the table a panel slid, leaving an opening through which the table could obviously fit. It was raining hard, and there were flashes of lightning and peals of thunder.
We all joined hands and sang "Kum Bah Yah," while Mr. Crowhill went over to a lever that came out of the floor. As he pushed it, the table began to rise towards the ceiling. It went through the opening and was fully exposed to rain, the lightning, and the thunder. When we were finally done singing the Long Version of the aforementioned composition, Mr. Crowhill started pushing the lever back to its original position. And the table came back down through the opening.
Everyone in the laboratory was silent, until we finally heard a gentle voice accompanied by a purring sound. As the table got lower and lower, it was evident that the voice was none other than the voice of Dr. Rooster, saying the rosary. Finally, he came into view. It was Dr. Rooster, no longer in an ice cube, seated comfortably in the comfy chair, saying the rosary, with the cat on his lap purring up a storm. Truly Incredible was the Peace, not to mention the Tranquility, that oozed from that source, not only to every nook and cranny of the laboratory, but probably out of the opening above the table and hopefully to Clown Town and indeed to the whole world.
Suddenly Mr. Crowhill made his way through the crowd gathered around the table. When he was finally standing next to the table, facing us, he shouted in Great Exultation, "He's alive! He's alive!! He's alive!!!"
The shouting seemed to bring Dr. Rooster to an awareness of his immediate environment. He stopped saying the rosary and started looking at Mr. Crowhill and the crowd around the table. At first he seemed a bit disoriented, as you can understand, but he began petting the cat and smiling as if he was in an a state of Extreme Contentment.
Mr. Crowhill then faced Dr. Rooster. He opened his arms wide and exclaimed, "Brother!"
At once Dr. Rooster got up out of the comfy chair and lept down from the table. The two embraced. It was a Big Emotional Moment for all of us. We cried profusely.
After that, Dr. Rooster noticed me and exclaimed, "You are are still here!"
"There is much to explain, Dr. Rooster," said Mr. Crowhill. As he proceeded to explain what has happened in the past 20 years, especially the advent of Hans Wurst and the System of Replicas, none of this seemed to be surprise Dr. Rooster at all. In fact, he seemed to have already been aware of Hans and the Great Evil that would unleashed upon the world from that individual.
"Well, it looks like there is only one thing left for us to do," said Dr. Rooster after intently listening to his brother's explanation.
"What is that?" I asked impulsively.
"We must march into Clown Town of course," replied Dr. Rooster. "There we must fight Hans."
"Now wait a minute you guys!" I said. "I am not really much of a fighter." "Don't you worry about a thing, Herr Doktor," said Mr. Crowhill. "I told you this morning that I want you to go to Crowhill Mountain tomorrow. Due to the recent turn of events, it is all the more urgent that you go there. We will see to it that you have safe passage to do so. You needn't join us in the fight."
"Oh, I see," I said somewhat ambivalently, because I didn't know exactly what was waiting for me on Crowhill Mountain. I didn't even know where it was.
"But we won't fight Hans in Clown Town," continued Mr. Crowhill.
"We won't?" asked Dr. Rooster.
"No, we won't," replied Mr. Crowhill. "We will march from here into Jammertal, where Clown Town is. Then we will march through Clown Town to the desolate area on the other side of Jammertal. That is where Hans now resides in the Crystal Stadium-Cathedral."
"Mein Gott!" I exclaimed.
"What is it, Herr Doktor?" said Mr. Crowhill. "You look like you have seen a ghost."
"I had a dream this afternoon about the Crystal Stadium-Cathedral," I said. "And it was not at all pleasant. But I take it that we have little time. So let me ask you where Crowhill Mountain is."
"It is on the other side of Jammertal, just beyond the desolate area," said Mr. Crowhill.
"I see. So it looks like I will be marching with you," I said.
"We will be honored by your presence, Herr Doktor," said Dr. Rooster most cordially.
"And I will be honored by yours," I said with whatever cordiality I could muster, talking to a man who had been in an ice cube for 20 years.
Mr. Crowhill then announced that we were to dress for battle. He led us into another room of the attic where there were shields, helmets, swords, and even armor. I myself chose to wear a Viking helmet, but my sword and shield were rather modest. There was just a simple cross on the latter, no crucifix. I did not want to wear armor. I was not going into battle, but I thought it might be wise to protect myself. (After all, I had been told that it was now the law of the land that you are allowed to walk around with a sword in public. Some of the local politicians had been pushing for this law for some time, saying that carrying around swords not only reduces sword-related crime, but it also builds all character. In any case, we dressed for battle and started downstairs.
As we were walking along, I asked Mr. Crowhill what we were to do about the pouring rain when we get outside. He told me that Waltresky has set up a Big Umbrella for us as soon as we exit Crowhill Mansion. Sure enough, as we streamed out the front door of the mansion there was Waltresky holding up this enormous umbrella, which had a Mysterious Glow. I looked up and saw an image of Mary in it.
"Waltresky," said Mr. Crowhill, "I want you to stay here at the mansion, and do something about those replica arms. The rest of you, I want you to mount your vehicles, unless of course you are on foot."
Now my horse was in some stables next to the mansion. Mr. Crowhill had a horse there too. And Dr. Rooster took a donkey. I had the honor of riding on my horse to the left of Dr. Rooster. Mr. Crowhill was to his right. The three of us headed the procession, as we began marching down Crowhill. Somebody back there must have been holding up the Big Mary Umbrella, because it was moving along with us. Or maybe it was doing that without any human support. Who knows?
"Kyrie eleison!" sang Dr. Rooster. Before I knew it, the whole crowd was singing a Full Blown Mass. When they got to the Credo, they even let me do a "ich glaube an Gott" thing, which developed into some kind of Fugue Thing. It was really good.
So there we were, marching through the countryside and singing the mass. As we were marching there were many who joined us. These were of course the Wise Farmers who live between Crowhill and Clown Town. Some of them had swords. Some of them had pitchforks. Some of them came from the hills. Some of them had farms in Jammertal. But all of them were Extremely Wise and knew the mass forwards and backwards. Though the procession had accordingly enlarged, this was not a problem. The Big Mary Umbrella was big enough and strong enough to include and protect us all.
We were doing the Agnus Dei when we entered into Clown Town. The place looked considerably run down compared to the way it looked 20 years ago. The only lights I could see were red. And there seemed to be a sex shop on every corner. Nevertheless, there were many Wise Street People in Clown Town who were eager to join us. Once again, the Big Mary Umbrella was big enough and strong enough to include and protect us all. In fact, I had the distinct impression that it had become larger for this very purpose.
As we reached the other side of Clown Town, we were done singing the mass. We saw the desolate fields of Jammertal stretch before us. Our silence seemed to match this desolation. Yet, we moved long in complete resolution, and the Big Mary Umbrella moved right along above us.
Some of the Wise Farmers and Wise Street People brought along their children. Though I would be reluctant to bring a child into such circumstances, it was not for me to judge their Supreme Wisdom. And one of the children shouted that there was a MacDonald's in view. I could see it in the distance myself. As it occurred to me that I hadn't eaten anything since that pizza, I started feeling hungry. Man others were hungry as well. But there must have been 5,000 of us, not counting the women and children. I seriously doubted if there was enough food in that place to feed us all.
Though I expressed my doubts on this matter, Dr. Rooster told me that he would be willing to go there and get what we needed. Everyone indicated what he wanted, but the Wise Farmers and Wise Street People didn't even have to write anything down. They went with Dr. Rooster and returned with the food.
So there we were, in the midst of the desolate area, eating our Big Macs, french fries, etc. The children had happy meals, which included little toy comfy chairs, Mary umbrellas, and crucifixes. After we had eaten, Dr. Rooster and Mr. Crowhill were eager that we should advance towards the Crystal Stadium-Cathedral before night falls. So that is what we did.
We marched silently onward, until our destination finally came in to view. It looked exactly as it did in the dream and caused me to shudder. However close we got to it, we could not see inside, because it was raining so hard. It had a big awning jutting out from the front of it to perform the same function as our Big Mary Umbrella.
Finally we came to a halt. From us in the front of the procession to the start of the awning the distance must have been about 30 feet. As we stood there, there came streaming out of the Crystal Stadium-Cathedral exactly the sorts of people I had dreamed about. Among these were football players, Wicked Wild-Eyed Women of various types, and clowns. There was even a group of guys with Big Shiny Hairdos and flashy suits, holding books. All the people who streamed forth and stood under the awning actually had a kind of shininess about them, as if they were somehow artificial. We under the Big Mary Umbrella, by contrast, looked very unpolished, but at least we were real.
Suddenly I hard a loud noise that I at first thought was thunder. But it had not been preceded by a flash of lightning. And it sounded much louder and much more blood-chilling than any thunder known to man. It was the roar of The Beast from within the Crystal Stadium-Cathedral.
The crowd beneath the awning laughed when they saw how unsettled many of us were in reaction to the roar of The Beast. Then they cleared the path from the front entrance to their front rank, but what came forth didn't look like like a beast of any kind. It was rather......a cowboy, albeit one that was bigger and shinier than any cowboy I have ever seen. Suddenly he pulled out a lasso and started swinging it around. He was obviously very skilled with a lasso and seemed to be Highly Entertaining to his comrades. They were laughing and clapping, while we drew our swords and held up our shields.
There was then another noise, this time the sound of a helicopter. It was getting louder and louder, but it was not coming from the other side. It was coming from our side. It kept getting louder until it finally came into view in front of us and landed between the two armies. On the front of it was huge crucifix. And from it emerged Waltresky. But he was obviously extremely excited and had some absolutely crucial news to tell us.
"Fallen, fallen is the House of Crowhill!" he shouted as he came running towards us.
"What are you saying, Waltresky? How did this happen?" asked Mr. Crowhill in considerable dismay.
"I gathered up all the replica arms with the rosaries and was standing in the hallway, wondering where to put them," replied Waltresky. "And suddenly the house was struck by a bolt of lightning. All the walls and the floors above me were at once burned to a crisp. And for but a second the roof was hanging in the air, when suddenly it came crashing down."
"But why weren't you crushed by the roof?" I asked out of great curiosity.
"I just so happened to be standing under that opening in the ceiling of the laboratory," Waltresky replied. "Hail Mary!"
"It certainly sounds like a miracle," said Dr. Rooster.
"Yes, it does," said Mr. Crowhill, who kept his composure remarkably well for a man whose house had just fallen. "But now we must seize the opportunity."
"What is that?" asked Waltresky.
"I want you to take Herr Doktor in the helicopter to Crowhill Mountain," replied Mr. Crowhill.
"But Mr. Crowhill...." I said with great reluctance.
"No time to think about it! Can't you see that a battle is about to begin," he said, as he nudged me forward.
So Waltresky and I started walking towards the helicopter. That Shiny Cowboy was still doing lasso tricks, which were at that point hardly of any interest to me. Suddenly, however, I felt the rope tighten around my waist and I was violently dragged in the mud. Yes, I was lassoed and pulled over to the other side.
As I was being dragged, kicked, and beaten, I heard the crowd say in unison, "Take him to Hans! Take him to Hans!"
Then they grew silent and I drew back from me. I was no longer being dragged.
"Get up, Herr Doktor!" exclaimed someone.
Though I had been weakened, I managed to get up on my feet and look in front of me. I was standing before the entrance of the Crystal Stadium-Cathedral. It was only a few feet away from me. The Big Shiny Cowboy was standing in front of the doors, looking at me and smiling an evil smile. Then we hard the roar of The Beast from inside. This time terror struck so deep in my heart that it must have stopped for a moment.
As I stood there in terror, the crowd began to say in unison, "Feed him to Hans! Feed him to The Beast! Who is like The Beast? Who can make war against him?"
At the same time, however, I heard a helicopter. It was getting louder and louder. Was this Waltresky going to Crowhill Mountain without me? Was I abandoned? As I sank ever deeper in despair, the helicopter was now very loud and seemed be hovering somewhere above me. But I couldn't see it, for there was the awning above me.
This awning, however, suddenly ripped opened, and down came Dr. Rooster and Mr. Crowhill. At once Mr. Crowhill drew a circle around us with a piece of chalk and threw down some rosaries, while Dr. Rooster held up his shield and threatened the crowd with his sword. They actually drew back. I looked up and could see the helicopter, from which a rope extended down through the big tear in the awning.
"Herr Doktor," said Mr. Crowhill after he was done drawing a circle around us thrice, "I want you to grab on to that rope and Waltresky will pull you up into the helicopter. We have no time. Do it at once!"
So I held on to the rope and was being pulled up. Mr. Crowhill looked up at me and shouted, "And whatever you do, don't look back!"
As I was pulled into the helicopter, I noticed that the comfy chair was in the passenger seat. I had no idea how Waltresky rescued it from the rubble of the House of Crowhill. I was not even concerned with what might happened if I sit there. For I had just learned who my true enemy was. The door of the helicopter closed, and I was sitting in the comfy chair on my way to Crowhill Mountain.
I was in tears. But my tears were tears of joy. It was the joy of knowing that the world is not devoid of ones who will risk their lives for others, let alone for a wretch like me. And as we approached Crowhill Mountain, I became intoxicated with the thought that there is hope for me and the rest of mankind. Sure I was that The Beast would be destroyed.