---
---
by Greg Krehbiel on 3 February 2013
The Underground Escape — the second book in my World Next Door series — is now available, and it's free today (Sunday) on the Kindle. (Click on the image.)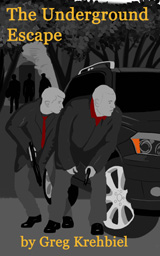 The concept of the World Next Door series is that groups of people with extraordinary talents and abilities, common interests and social views, group together into clans. These clans are largely unconcerned about normal human morality or law, and seek to govern themselves by their own rules.
Geof Franklin discovers that his son Alek (used to be Josh — I changed it) has been recruited into the elf clan. In The Hidden Village Geof doggedly pursues the clans, uncovers "worlds within worlds" right in the middle of Washington, D.C., and ends up on the wrong side of the law. To escape prosecution, he ends up having to accept sanctuary among the elves.
In The Underground Escape, the gamer clan has become the mortal enemy of the elf clan, and Geof and his new wife have been caught in the middle of a war. Loyalties are tested all around and Geof and Jen have to decide if they will be true to the elves or seek their fortunes elsewhere.
-- 2013-02-03 » Greg Krehbiel